Support Group Lead Training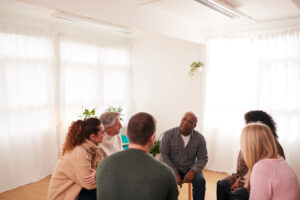 Are you a Support Group Lead?

Does your group provide peer support?

Would you like to gain the skills and knowledge to facilitate discussions, giving everyone an equal opportunity to share?
This workshop welcomes existing and aspiring support group leads to increase, shape and solidify their understanding and competency as facilitators in this field.

Whether to inspire an audience such as a network or community, signpost to support services or provide comfort to others, our training workshop covers the moral, practical and legal elements of supporting others in a peer capacity to share personal stories and experiences as well as providing the tools needed to help manage a support group.
The Support Group Lead programme is centred around empowerment, confidence, competence and safety.

There are two training pathways for the Support Group Lead workshop.
Distance learning means you can start immediately!
Enrol here for £48.
This link will take you to our training platform where you will be prompted for payment.  Once payment is processed you be given immediate access to the resources to work through at your own pace.
You can pause, take notes and watch again.  Your purchase is available for 12 months.
Instructor Led Training
Join an experienced Lived Experience Facilitator who will deliver two enriching workshops via Zoom.
The next Support Group Lead training will be on Wednesday 19th and 26th January 2022.
This will be a twilight course at 7:30-9:30pm GMT.
Please contact us about joining this course or for in-house delivery.
£79 per delegate or £69 if booking more than one place.
To find out more
Our next live Support Group Lead Training will be twilight workshops on January 19th and 26th 2022. Please email wellbeing@aal-member.co.uk to reserve a place or for more information.
Sign up to our eNewsletter to receive our latest news and updates direct to your inbox